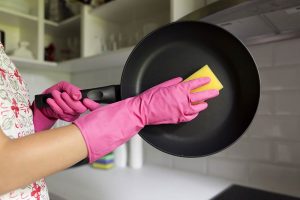 A good frying pan is an investment for years. The way you store and wash your dishes is crucial. Learn simple tricks to significantly extend their "life".
Proper care
Take care of your pans and forget about replacing them for a long time.
If you have already chosen your favorite SMILE frying pan, remember to wash it thoroughly, dry it and rub the inside with a little oil before using it for the first time. Fat will help moisturize the vessel and enhance the non-stick properties. Remember that no frying pan likes harsh treatment. When cooking, replace sharp and metal cutlery with spatulas made of wood or silicone. Use warm water and mild detergents for washing. After each washing, dry it gently with a cloth or paper towel. Remember to moisten the pan with a little oil every now and then.
Adequate storage
In order for your pots and pans to serve for many years and still guarantee healthy cooking, remember about proper storage. The rules are almost the same for any vessel, regardless of the material it is made of. It is best to store the pans separately. If you do not have a lot of space, the felt pads included with the Smile pan may be beneficial.
Discover SMILE pans and choose your model: