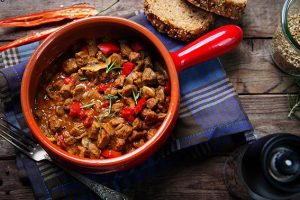 Cooking time and its advantages
A pressure cooker is an invaluable device nowadays. The perfect solution for busy people. How to use it? What should you know before buying? Find out how simple it is.
Cook healthy… and FASTER
The pressure cooker will allow you to prepare a delicious dish much faster thanks to the high pressure that speeds up the preparation process. The pot is tightly closed, it does not require constant stirring and control of the food. Rapid cooking of vegetables and fruits also affects their quality and nutritional value. All dishes in the pressure cooker are prepared without the use of fat, which makes the meal tasty and healthy.

How to choose the right pressure cooker?
Above all, a pressure cooker should be safe and convenient to use. First of all, focus on functionality. Decide what capacity will be best for you and your loved ones. The pots are made of various materials and are adapted to different cookers.
Get to know SMILE pressure cookers and choose your model: